Pimp Tea's ECMA Recap
by Troy Neilson
21 February 2005

So many names. So many faces. So much liquor. So little sleep. What a weekend!

Mickey D, Bonshah, DJ Loc Dog and I (Pimp Tea) set off in my mother's mini-van last Wednesday for the 2005 East Coast Music Awards (ECMA) in Sydney, Nova Scotia.

The trek would not have been possible if not for the support of Fredericton businesses, fans and friends. We raised nearly $600 via our fundraiser show and auction, which combined with contributions from Music NB and NB Sound Initiatives covered our hotel, gas and a bit of food.

After a stop in Halifax to perform on Breakfast Television last Wednesday, we arrived in Sydney on Thursday, Feb. 17th. The party started as we performed on the 72-hour jam followed by a trek to The French Club to see rap group Universal Soul team up with Slowcoaster for an amazing blend of music.

Sleep was at a minimum for the weekend as we opened up our room to the Fax 4 from Halifax. All told, we had nine people sleeping in our hotel room each night, which made for interesting maneuvering in the morning.

The highlights of the weekend, besides winning an ECMA award included the following:

* Hundreds of volunteers made the ECMA weekend a success. Their spirit and generosity was highlighted to me when while chatting with a shuttle driver who was driving us to a gig, I discovered he was Frank Sampson - the father of the soon-to-be 5-time ECMA winner Geordie Sampson. I was amazed.

* At the Black Vibes show on Saturday night I got to watch the amazing talent of Canadian Idol finalist Gary Beals. Earlier in the day, another Canadian Idol finalist, Kaleb Simmonds wowed the crowd with his singing and beatboxing. However, the highlight was discovered an amazing new R&B voice - that of JC. That night I found out he was Jordan Croucher, one of the most amazing basketball players I ever saw in my four years of doing computer basketball stats for UNB. I was shocked.

* Some other notables include hearing renowned country artist and ECMA Entertainer of the Year, George Canyon pronounce "Pimp Tea" and "Shake Ya Caboose." As well as popping Geordie Sampson's collar at the after party and getting pictures with Rita MacNeil, Geordie Sampson and Duane Andrews.

All in all, it was a fantastic weekend filled with tons of memories, new faces and very little sleep. I'm off to bed.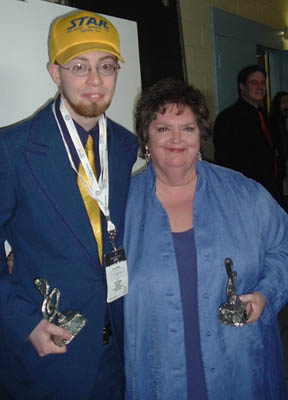 Copyright © 2006 Brockway Entertainment. All Rights Reserved.