Day 3: Myles & Myles of Bandyness
I was late getting to the third and final day of the "Export Buyers Showcase."
Nayles
gave me a quick drive and I was lucky to catch the last couple songs from Bruce Guthro.
In between performers, they took time out to celebrate birthdays for manager extraordinaire, Bruce Morel, and Jamie Steel of
Periwinkle Productions
.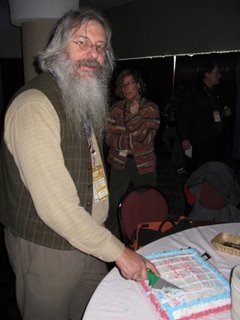 1.
Bruce Guthro
. This folk storyteller knows how to woo a crowd. His songs covered topics from the Blue Jays championship to his website's URL. He's living proof that less is more, ensuring the focus is on the story without distraction.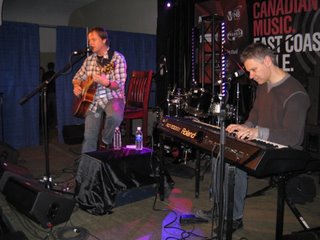 2.
Kendra MacGillivray
&
Troy MacGillivray
. This musical family is known most prominently for Kendra's fiddling ability and Troy's piano playing, but they're always ready to switch up instruments. Kendra was clearly nervous on the mic, but none of that showed in her instrumentation. The highlight had both siblings playing fiddle in unison.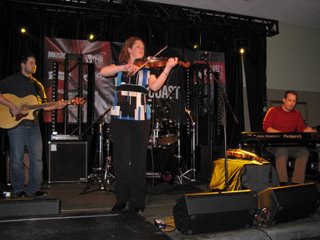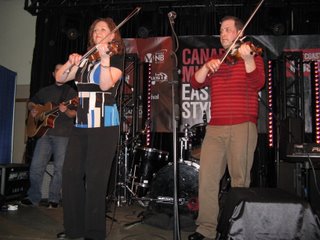 3.
David Myles
. It seems not so long ago, in 2005, David phoned me to ask for advice on promoting his debut album. Now, in 2009, David Myles is riding a wave of international acclaim. His show has improved immensely since 2005, helped by his move from strictly folk to a more sultry jazz blues sound aided by his backing band, along with some Bruce Springsteen inspired rock. His comfort on stage and crowd interaction brought in the largest crowd of the whole showcase, and with good reason - he provided one of the most impressive performances of the series.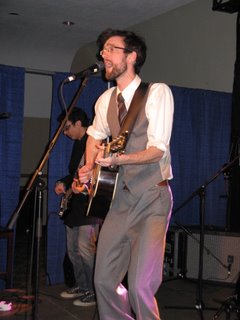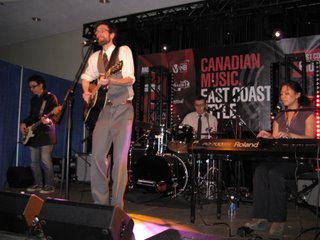 4.
MIR
. Their light pop sound seemed somewhat generic, but their success is nearly unparalled by any other band of their sort in Atlantic Canada.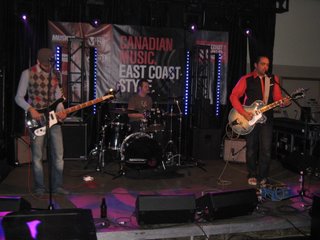 And with that, the "Export Buyers Showcase" wrapped up.
David Myles
and
Ennis
stood out as the most impressive surprises of the series.