Day 3: Music NB Stage - Cajons & Bones
Whelan's Gate played host to the
Music New Brunswick
Stage for the weekend. Saturday night's lineup was eclectic, ranging from folk to instrumental, rap to french and finished with a killer lineup from
Forward Music Group
1.
Andy Cotter
. Backed by Scott Sampson on the drums, he sang and strummed with the style that's gained regional fame for his jam band
Chillin Room
and 2009 ECMA nominated children recording
Scotty and the Stars
.
2.
Ryan Leblanc
. This instrumentalist stood out as one of the top three most impressive performances of the weekend. This one-man wrecking crew showed off just how easy it can be to play harmonica, guitar and cajon (box drum) all at the same time. His talent earned him praise from Australian agent Jordan Verzar of
Top Shelf
, won him the 2009 ECMA award for World Recording, and landed him performing at the awards gala show.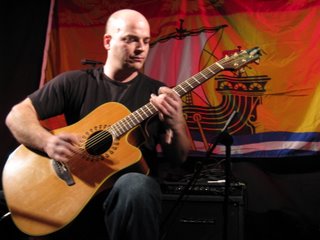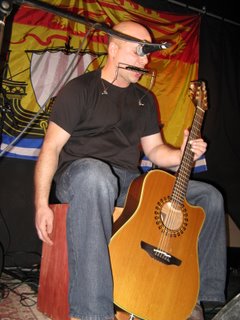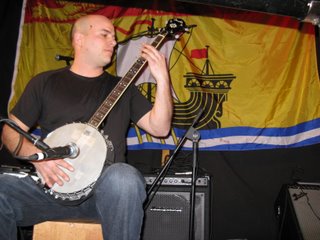 3 & 4. I missed
The Nuclear
as I prepared for my set as
Brockway Biggs
, but most everyone in Atlantic Canada still knows me as
Pimp Tea
. As usual, I had a blast.
Bones
hooked me up with a candy ring, which added a nice new element. Girls were shaking their cabooses. The two fellas below had hype "yeows!" for 'Pinch Hitter' and good hand claps for 'Clap Your Hands'. And of course folks were throwing their thumbs up for 'Super Dude'. The few delegates who showed up all had positive things to say, which is always flattering.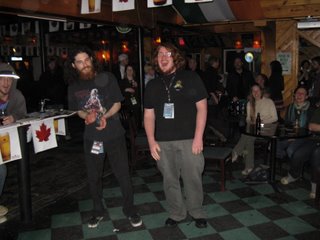 Every year, I meet folks who've heard of me through my newsletters, but whom I've not yet met. One such person is Robyn of the
Western Canada Music Awards
(WCMA).
We had a great chat about the differences between the WCMAs and the ECMAs, in particular the perception that the WCMAs cover country music, which is incorrect. In fact, unlike the ECMAs, they've been working to improve their hip-hop content because they see the connection it currently has with younger crowds. The chat was interesting. As well, they've been moving to smaller cities as of late, such as Moose Jaw (2008), Brandon (2009), potentials for 2010 & 2011 include Kelowna and Whitehorse.
5.
Nayles
& Clutch (my roommates for the weekend) This NB veteran rapper first came on the scene as part of the group Element Kontrol. The set brought a tooth and nails rap performance.
6.
Barley and the Durt
. The artist comraderie amongst NB artists began to show as Barley called on Brock & Alex from
The Divorcees
,
Mel Keith
and Robin (who played bass for five bands over the weekend).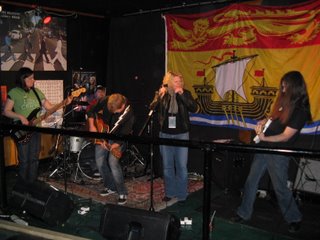 7.
Kevin McIntyre
. This french rocker was nominated for a 2009 ECMA in the 'Enregistrement francophone etoiles galaxie radio-canada de l'anne'. The NB comradie was again in full effect, as
Music NB
director, Jean Surette (of
Les Paiens
) took to the drums, while Robin again provided bass.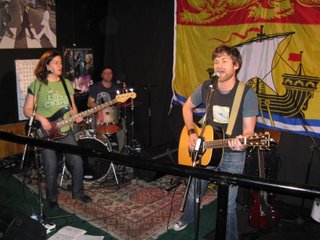 8.
The Slate Pacific
. Unfortunately I missed them as I was chatting with Robyn from
WCMA
and catching up with the ECMA hip-hop contingent in Corner Brook: Nayles, Clutch and Joe Buck. It's really too bad because my Fredericton friends Zach and Heather are part of the band.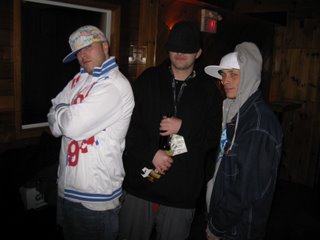 9.
Grand Theft Bus
. Okay, I'm bleary eyed... no more band descriptions... enjoy the pictures.
10.
The Motorleague
. Punk rock amazingness, the way it should be done. They had everyone on stage with them including James Boyle, Share's Zach Atkinson, bassist Robin and
Josh Hogan
. The pictures explain why I heart the Motorleague.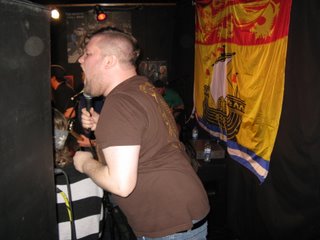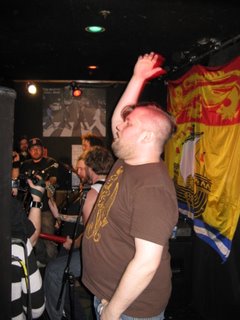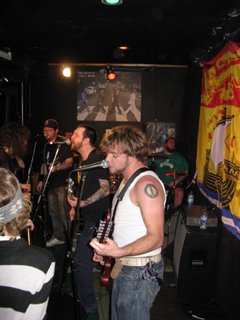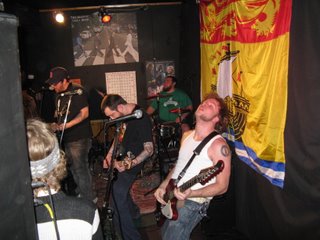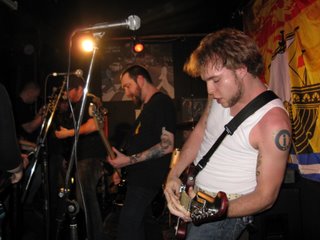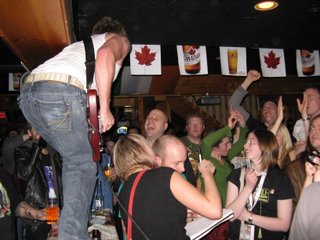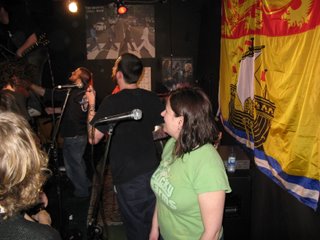 11.
The Sleepless Nights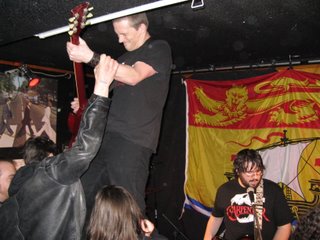 12.
Share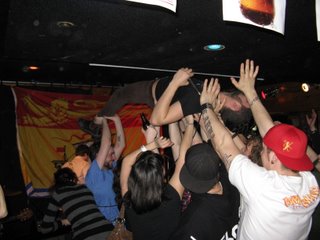 Bones
finished off the night with some of his great indie pop selections. Everyone was grooving until past 4 am.