Pimp Tea
"An Urbal Remedy"
CD (2004)

CD Baby ($9.99)

iTunes ($9.99)

Pimp Tea returns with his sophomore album featuring guest vocals from Bonshah, Mickey D, Rory Borealis, The Sound & THe Fury & AC. Production by Jorun (Buck 65, Sixtoo, Universal Soul), Classified, Nevski, J-Bru, Cal, Karl Mohr & more; cuts by DJ STV & Jorun. Described as "strong through & through" (Bob Mersereau, CBC Arts Reporter). Enhanced CD includes 5 videos & 4 bonus songs.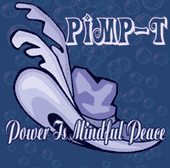 PIMP-T
"Power Is Mindful Peace"
CD (2002)

Price: $10 CDN (includes S/H)

The highly anticipated debut album from Pimp Tea, featuring guest vocals from First Words, Tech Thai, AC, WS & Mossman. Production by Classified, We Stain Porcelain, Sean One, Nevski, Tech Thai, Ill Factor, Electrical Discharge and Danny Elias; scratches by DJ STV & Tech Thai. Described as "a considerable achievement" (The Daily Gleaner) and "truly groundbreaking" (ybfree.com).