22 Sept 2001: The Breaks (30 Sept 2021)
20 years ago, the 'The Breaks' took place in Fredericton on 22 Sept 2001. Hosted by CHSR, the event took place in the UNB ballroom.

It featured an all-star lineup of Fredericton & NB talent, along with a breakdance battle and freestyle cypher. It was also the first hip-hop show I performed at in Fredericton.

Emcees with sets included Illogic Crew ( Phakt, Apause, Jed Nice ), First Words ( Sean One, Above, Microphone Jones), M.I.C, Element Kontrol ( Nayles, Intuit ), Pocket Dwellas and PIMP-T . Also in the house freestyling was a young Monark.

DJs included DJ STV & Mixxx Master D. I used to know most of the breakers, but I've lost touch & forgotten their names. There's @instagraemeguthrie & Jacques Desjardins. Were some of Halifax's Lokdown crew there?

Video footage is from James Orr (1/3 of CamoBear's WeStainPorcelain)

Up on YouTube are:

Full Breakdance battle
"I've Got Friends that Rap Well" by Sean One, Above, Microphone Jones, Phakt & DJ STV (from Sean's 2001 album 'I Live In New Brunswick')
"In Yo Brain" by Illogic Crew (Phakt, Apause, Jed Nice & DJ STV)
Unknown sign (maybe titled "First Words") by Sean One, Above, Microphone Jones & DJ STV
1999-2000 David Myles & Kungfunkshun (2 Sept 2021)
David Myles just released an amazing instrumental album, so I thought I'd share a bit about him.

Most of you know David as a stylish suit-wearing folk / jazz artist. But what you might not know is that back in 1999-2000, he was a part of one of Fredericton's best funk cover band ever: Kungfunkshun. I was fortunate perform my 1996 chemistry bonus project, "Ice Ice Water", with them.

I wrote a couple features on Kungfunkshun for The Brunswickan and The Aquinian . I even interviewed David (check the pic). I wrote: "With David's crazy leg kicks and flawless arm motions you'll think he'd been abducted by the mothership itself. He provides vocals as well as his trumpet skills."

You can read the Dec 1999 article here (with pictures) and the Sept 2000 article here.

I helped out the band by burning reference copies of their songs onto CD. I was one of the first with a CD burner back then after indulging in 1998 on a 2x burner for $459!! The only 2 burned CDs I still have are the 2 Kungfunkshun ones (pic attached)

Back in 2005, David reached out for help promoting his 1st album. I was in the middle of my move to Ottawa, but gave him what advice I could. I was there for his first CD release show at Picaroons (I think).

When I saw him perform next at the 2009 ECMAs , I was blown away by his growth. Here is an excerpt from my newsletter: "David's show has improved immensely since 2005, helped by his move from strictly folk to a more sultry jazz blues sound aided by his backing band, along with some Bruce Springsteen inspired rock. His comfort on stage and crowd interaction brought in the largest crowd of the 'Export Buyers Showcase' series, and with good reason - he provided one of the most impressive performances of the series."

After my concussion in 2011, I struggled with listening to music, but I could tolerate male folk music. I gravitated to David's music and his 'In the Nighttime' collaboration with Classified was just what I needed. His song "What Would I Have To Do" was the first dance at my wedding.
2001-Aug-25: First Hip-Hop Show Performance (25 Aug 2021)
Exactly 20 years ago, on 25 Aug 2001, I had my first performance at a hip-hop show. The (future) star-studded lineup included Classified, Bonshah, Spesh K, J-Bru, Jay Bizzy, Tech Thai, DJ Calypso, K-Flow, Rob Banks aka Ill Factor, MC Squeege and myself.
It was organized by Criminal Records in Charlottetown, PEI. Unfortunately the turnout was quite small. The bar section was closed for renos, so people were showing up too drunk from their pre-drinking. So the venue owner locked the doors at 10:30 pm and wouldn't let anyone else in.
I had previously played a bunch of general shows with the likes of Kungfunkshun, Totem, "So we will wait for you", etc, but this was the first hip-hop one. My performance was.... Well, it was a starting point. Lol.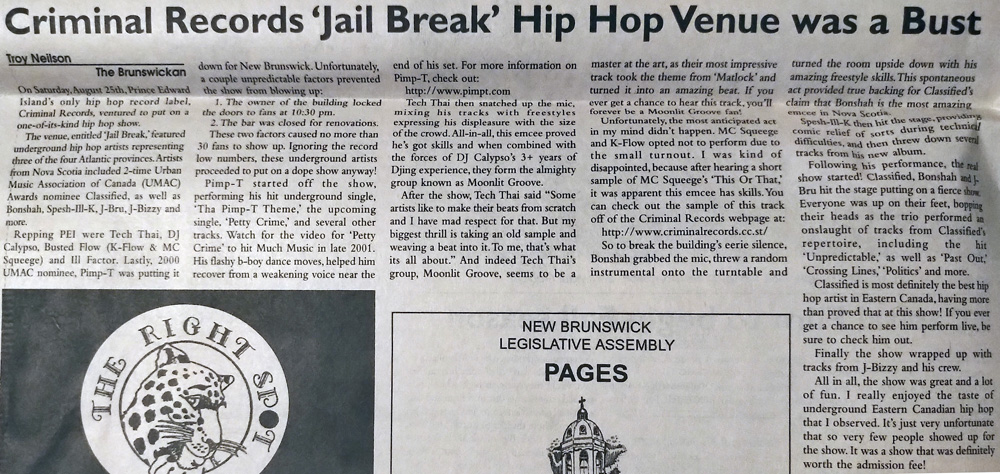 Wundrkut (RIP) (20 Aug 2021)
RIP Eric Cardeno aka Wundrkut. I was very saddened to hear the news of his passing.† He was a super nice guy: unassuming and friendly.

Chris Kendall of DMC Canada connected Eric & I back in 2004.† I first met him in person at the 2005 National DMCs in Hamilton where he finished in the top 3. † I caught up with him again in 2006, at the national DMCs in Ottawa, where he won both the main competition and the DJ Supremacy. My footage of his Ottawa routine is here

In Ottawa, he hooked me up with a copy of his "Corn Beep and Ahhh!!!" mixtape.† It remains one of my favourites from that era.† A few years after my concussion in 2011, I gave away 95% of my slim jewel case CDs (which I regret), but Wundrkutís was one of the few I made sure to keep.

Here is one story of Ericís kindness.† In 2007, he wrote to me: "After last years DMC, I traded in the mixer I won at the nationals for an MPC.† Itís definitely something I felt I needed to do to open my pallette."

And one of his early beatmaking projects was to create a beat for me from samples of my Great Uncle Don Messer, a fiddling legend.† † He took that initiative after he saw this CBC Newsworld clip by Bob Mersereau.† And he's the only beatmaker who ever took on that initiative.

He wrote:†"I fluked out on that beat right there.† Messer samples are quite challenging and I donít know anyone thatís sampled him, but I was lucky enough to find a some one hit strums on the fiddle.† Iíll continue to keep my ears open for messer samples / records for you."

Our collaboration would have been released on my 4th†album, if hadnít suffered my concussion in 2011.† As Iíve started to get involved with music again this year, I planned on re-connecting with him.† Someday I will get our collaboration releasedÖ

My condolences to his family and his close friends @mikemsa & @paulskratch.
2005: The push for an ECMA Rap Recording category (10 June 2021)
The @thejunoawards announced that next year there will be 2 rap categories: (1) Single of the year and (2) album. And it's @eastcoastmusicassoc week right now in Cape Breton. So, I thought this would be a nice throwback.
Up until 2005, the East Coast Music Awards (ECMA) had an "urban single of the year" category, but rap artists rarely ever won. There was so much great rap music coming out of Atlantic Canada, but some artists had given up on the category. So we pushed for a separate Rap category.
Fortunately the ECMAs listened and in 2006, the rap category was introduced. The category has been filled every year since. I believe Classified won it for the first 3 years. Then, I think it may have been Hotbox.
This clip includes interviews with @adekayode, Bonshah & myself. And live performance footage of @universalsoul902, @fizthebaritone, @tacktishion, @dutchrobinson, @ashleymacisaac__official, @buck65, @benjaminconoley, @colin_carryonprod.
I recently caught up with @arlomaverick, who shared that he & @willstrickland1 had to put in more work than we did to get the rap recording category added to the Western Canada Music Awards @breakoutwest. So, thanks to the ECMAs for making it easy.
Feb 2005: Quake Matthews @ The ECMAs (8 Apr 2021)
Feb 2005 ECMAs in Cape Breton. Quake Matthews had the #1 single this week. He's paid dues.
He played 3 shows as part of Fax 4 with spesh k, boy-ill and markit . One was acoustic at MIANS where they beatboxed.
We had 9 people crashing in our hotel room that weekend. Rooms were hard to find, but ANSMA hooked us up. We took shifts sleeping.
Shoutout to Mick d, loc dog and bonshah who were great tourmates. That was the weekend I won the ECMA urban award and successfully lobbied for a separate rap category.
That was also the first time I met JRDN in person, although I'd seen him drain many 3's during his university days.