Brockway Biggs returns with 'Remarkable' single
Brockway Biggs (formerly Pimp Tea) returns with his first single in nearly a decade. Derailed by a life-altering concussion in 2011, the Ottawa/Fredericton rapper is excited to bring you 'Remarkable' featuring AC (Andy Cotter) and The Sound & The Fury.



Available now on iTunes / Google Play / Spotify / more...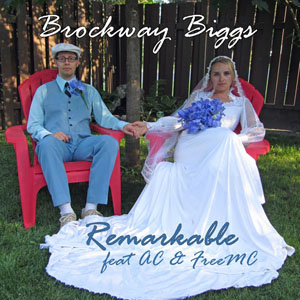 Listen to 'Remarkable' on Soundcloud: https://soundcloud.com/brockwaybiggs/remarkable-feat-ac-freemc




The track freshens up his 2004 song 'Maniac For Your Love' and was unveiled as a surprise at his wedding reception. This first post-concussion performance thrilled his wedding guests and their impromptu footage led to the making of a live video version of 'Remarkable'. You can check it out on YouTube: https://www.youtube.com/watch?v=Vg4WHeaDUow




Thanks for subscribing to the mailing list several years ago. If life has changed and you'd rather not get emails anymore, feel free to reply and let us know or hit the unsubscribe link at bottom. Or if you'd like to have your email address updated, we can get that done too.

All the best.
Brockway Biggs - www.brockwaybiggs.com