ECMA Recap: I got an ECMA!
Yhello!

I spent 5 splendid days in my hometown of Fredericton for the East Coast Music Award (ECMA) festivities over the Feb 6-10 weekend. I met up with tons of friends, fans, peers and I feel more motivated than ever.

I didn't realize how many people appreciated these newsletters of mine, so I'll keep 'em going strong, especially after receiving praise from folks like urban video producer Cazh, jazz superstar Duane Andrews and Moncton industry figurehead Adam Gould of Broken Coast.

The Big News (Joel Plaskett):
The biggest news from the weekend was Joel Plaskett winning a record six ECMA awards. I caught half of Plaskett's set at Back Nine on Saturday night, thanks to a slick wristband donation from Heather O of ReNeu Boutique and ECMA-nominated photographer Kyle Cunjak. I even got the chance to chat with Plaskett after his show. I must have left an impression because he worked 'Shake Ya Caboose' into his Ottawa show this past Friday. Plus he said he'd heard good things about me from his record producer, Gordie Johnson (of Big Sugar fame). Ah, the perfect segway to one of my highlights of the weekend...

Highlight #1 (Gordie Johnson):
Gordie Johnson (of Grady) remains a fan of my show/music and I'm thrilled! You might remember the funny story of how we met at Music NB week in 2006. Well, we've kept in touch, and even met up last summer to make him the first recipient of my 'In Awe of Simplicity' album (as shown below). Anyway, the ECMA weekend gave us a great chance to discuss future potentials.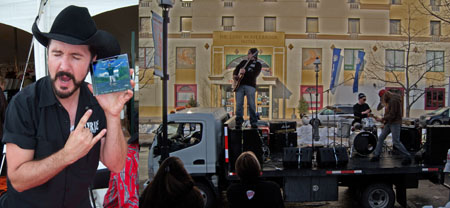 Highlight #2 (Ross Neilsen):
I loved the "Rock Machine of Awesomeness" built by blues ECMA-nominee Ross Neilsen (see pic above).

Highlight #3 (Discovery Stage):
My Discovery Stage showcase was a blast! Thanks to everyone who came out. I was standing on chairs, tossing out Pimp Juice gear and shakin my caboose on the risers (see pic from Candice Mills below)! You know how I do! Shout outs to Maggie the Red Sox fan, Soucy, Stephen Zaat for the wristband, Zoe L for the "F**k Gluten" t-shirt, Robbie the Chef for the NB Lieutenant-Governor and the dudes from Pembroke.

Big thanks to Jenn for joining me on stage for some dance moves after fighting to get the puppet I'd thrown to the crowd, and for asking for the scandalous autograph afterwards! Oh my. It was nice. Like whoa!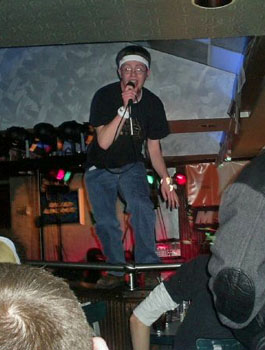 Highlight #4 (Brass Tacks):
Back in 2001, I saw an amazing song/video by Brass Tacks. For the past few years I've been trying to track it down. At the ECMAs, I ran into Paul of VideoFACT who finally put me in right direction. The forgotten track is called "Empires / We Like Dat" and you can view the video at 49percentFilms.com!

Awards Show Recap:
Okay, okay, to the awards show. Rap nominee, Hotbox couldn't stick around for the awards show, so he hooked DJ Loc Dog & I up with his tickets. The 6-hour event started off slow, but picked up when Mark Critch from This Hour Has 22 Minutes hosted the second half.

Other award show highlights include:
* A stunning performance by the NB Youth Orchestra, who won an ECMA for Classical Recording of the Year.

* An on stage collaboration between NB rocker Chris Colepaugh and fiddling sensation Samantha Robichaud, which Samantha later informed me I could expect to hear on her next album! I can't wait!

* Having Pat & Heather of Port Hawksbury open my eyes to the legend of Django Reinhardt

* Jessica Rhaye picking up her first ECMA award (not as an artist, but as a graphic designer)

* Thom Swift (of Hot Toddy), who has always been a friend of the Fredericton hip-hop community, won Blues Recording of the Year.

* At the James Joyce jazz stage on Friday, I took in an amazing show from Bill Stevenson and Tom Easley (of Hot Toddy), and they went on to win Jazz Recording of the Year.

* Best of all, I got an ECMA! No, not an award, something even better! Every table had an original hand-made "ECMA" centerpiece. I assumed at the end of the night they'd be thrown away, so I swooped in to pick up my favourite after the show ended. The best part - mine incorporated a 7" vinyl. If anyone knows who made them, I'd love to know! I did a photoshoot: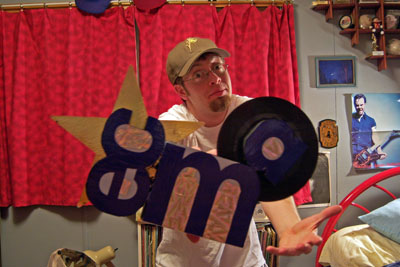 Other ECMA highlights:
There were so many exciting happenings and encounters during the whole ECMA weekend, I can't do it justice. Here's a quick recap:

* Big thanks to Skratch Bastid for hooking me up with the new Buck 65 album for the trek. I reviewed it

* Catching up with Mick D at his weekly CHSR Radio show.

* I arrived early on Thursday to claim key postering spots like above the urinals and in the elevators at the Delta and Crown Plaza.

* Kyle Cunjak had a great photography display at City Hall. My favourites were of On Vinyl and All of Green.

* The 10x10 music videos had some great and mediocre stuff, with my highlight being Hey Rosetta's robot video.

* Thanks to Wade Pinhorn and Shelley Nordstrom for the drink tickets!

* Reminiscing with eventual ECMA winner for Photographer of the Year, Chris Smith, about Trimmed Naval Beef.

* Backstage VIP at the Classified show at Nicky Zees. I remember back in 2001 when he played to 8 people in Charlottetown! Things change!

* Friday night ECMA Hip-Hop Showcase at Vixens was a blast:
- I did a few songs
- I met Hotbox and Psychobeatz for the first time
- I had a fan from the Elks Club days, Julie, let me use the ladies washroom when the Men's line was ridiculous
- Hype performance from Expedyte (of the Peace of Mind days)
- I met Ashley Bursey of the Brunswickan
- Battle of the beats: Fresh Kils vs Jorun
- Allison Forward had her amazing new tattoo in full effect
- Sean One of First Words teaches the son of a friend of mine's co-worker.
- And of course catching up with everyone from the Fredericton rap scene: STV, Loc Dog, Scout, Babygrand, Socially Acceptable (Ceeb & Apostrophe), DNA, Catalyst, Monark, Above, Shiggy, Mick D, Boogie, Higga, Nayles and even Nasty Naz.

* At the Urban Panel, the consensus among Cazhmere, Ghettosocks, Uncle Fester, and Jordan Croucher was that diversity is the most important aspect of hip-hop these days.

* Even if they wouldn't let me into the afterparty in Room 736 of the Delta, I still chased down Peter Elkas when they were calling for him.

* I finally figured out who that tall bearded man is that says 'hi' every year: James Steel of Periwinkle Productions.

* While picking up some sushi at the Superstore, I ran into Kora W of Vetch fame. She's studying Archaeology these days!

* The Slowcoaster show at the Delta was amazing (Shoutout to Natalie J for sneaking me into the sold out show and to Steven Bowers for lending me his pass so I could leave to go to the bathroom :)

* I discovered the Hot Lollies booth is owned and run by high school friends of mine!

* On Sunday I got stuck behind a big brute of a vehicle while driving in town from Charters Settlement. It had DestroyerFilms.com written on the back of it. I put 2-and-2 together and realized it was old friend Chuck Greer.

* I got a chance to thank Mickey Quase who is rumoured to have saved the Rap/Hip-Hop Recording category only 3 years after I lobbied to have it created.

* Hugs to/from hard workers like Zach Atkinson and David Myles.

* Chatting with busy bodys like Brock Gallant and Fresh Kils

* Constantly running into Super Dude in training, Don Levandier of Motorleague!

* I definitely ran into Bob Breen of my brother's old school, OIART, more than anyone else.

* And of course, having the chance to hang out with my parents and some of my best friends: Erin H, Heather L and Tom S.


Contests & prizes
--------------------------------------------------------------------
Some artists hooked me up with CDs at the ECMAs to give away. For a chance to win, send an email to theword(at)brockwaybiggs(dot)com with the subject "I love Canadian rap".
Deadline: February 29, 2008. Limit one entry per valid email address.

Prizes:
* Backpackers Union (Halifax, NS) - Keys To The Studio Compilation
* Hotbox (Atlantic Canada) - Frostbite
* Various Artists (Nova Scotia) - ECMA 2007 'On The Grind' Urban Compilation
* Various Artists (Canada) - Brockway Ent's Canadian Rap Future Superstars 2008

Last month's winners:
DJ Kaohtix of Sudbury, Jon M of Russia, Lori S of Halifax, Sandra K of Whitby, Sandra R of Chatham & Shane K of Sydney


If you managed to read this far, and haven't yet picked up a copy of 'In Awe of Simplicity' and would like one, it's available on iTunes or by Credit Card, PayPal, Cheque, Cash


Peace.
Brockway Biggs

Brockway Biggs - www.brockwaybiggs.com
Brockway Entertainment - www.brockwayent.com
MySpace - www.myspace.com/brockwaybiggs
Campus Rap Show List - brockwayent.com/rapshowlist.html