The 100 day trek across Canada has begun..
So I'm finally free from the 9-5 grind and I've hit the road for 100 days. The first stop was in New Brunswick to unwind, work on set lists, visit my parents and take my #1 fan out to dinner.

I've set up this nice tour blog where you can keep on top of all my adventures and see pictures too:


I've already blogged about my National Park plans and tour sponsorships with Pimp Juice, TIN Sportswear and Rapid Snack. I'm going to keep track of kms driven, highest gas prices & total spent on gas.


I'm booking this whole crazy thing on my own, so I could use some help.

If you're interested in putting a show together or having me play a house party, let me know (see "TBD" dates below). You'll get a tote bag of sponsor product.

Oh yeah, Super Dude shirts have been restocked for the tour!


Ottawa Citizen - 10 April 2008



The Tour Itinerary:
| | | |
| --- | --- | --- |
| Date | City | Venue |
| Sat 3 May 08 | Mallorytown, ON | St. Lawrence Islands National Park (visit) |
| Sun 4 May 08 | Toronto, ON | TBD |
| Mon 5 May 08 | Toronto, ON | CHRY - Backroad Radio 105.5 FM 6 pm |
| Mon 5 May 08 | Toronto, ON | CKLN - Droppin Dimez 88.1 FM 11 pm |
| Tue 6 May 08 | Toronto, ON | Flow - The Real Frequency 93.5 FM 12 am |
| Tue 6 May 08 | Toronto, ON | CKLN - Statik 88.1 FM 5 pm |
| Wed 7 May 08 | Leamington, ON | Point Pelee National Park (visit) |
| Wed 7 May 08 | Windsor, ON | CJAM - Needle 914 Show 102.3 FM 12 am |
| Wed 7 May 08 | Windsor, ON | Scores Sports Bar 10 pm |
| Thu 8 May 08 | Toronto, ON | Mitzi's Sister 10 pm |
| Fri 9 May 08 | Hamilton, ON | The Westside Concert Theatre - Urban Hamilton Showcase 9 pm |
| Sat 10 May 08 | Kitchener, ON | CJIQ - The Lockdown 88.3 FM 8 pm |
| Sun 11 May 08 | Hamilton, ON | CFMU - DOPEfm 93.3 FM 2 am |
| Sun 11 May 08 | Guelph, ON | CFRU - Vokal Kenetiks 93.3 FM 8 pm |
| Mon 12 May 08 | London, ON | CHRW - Come Up Show 94.9 FM 1:30 pm |
| Tue 13 May 08 | Toronto, ON | Andy Poolhall - Footwork Tuesdays - Brockway Biggs Birthday Fun 9 pm |
| Wed 14 May 08 | Toronto, ON | Rivoli - Handsolo Mixtape Release Party 9 pm |
| Thu 15 May 08 | Waterloo, ON | CKMS - Wax Jungle 100.3 FM 6 pm |
| Thu 15 May 08 | London, ON | The Wick (Brunswick Hotel) - Hip-Hop Night |
| Fri 16 May 08 | Tobermory, ON | Bruce Peninsula National Park (visit) |
| Fri 16 May 08 | Bayfield, ON | TBD |
| Sat 17 May 08 | Sudbury, ON | TBD |
| Sun 18 May 08 | St. Sault Marie, ON | TBD |
| Mon 19 May 08 | Heron Bay, ON | Pukaskwa National Park (visit) |
| Tue 20 May 08 | Thunder Bay, ON | TBD |
| Wed 21 May 08 | Winnipeg, MB | TBD |
| Thu 22 May 08 | Winnipeg, MB | CJUM - The Joints 101.5 FM 12 am |
| Thu 22 May 08 | Winnipeg, MB | CJUM - Magical Crates 101.5 FM 4 pm |
| Thu 22 May 08 | Brandon, MB | CJJJ - BrandonBands.com 106.5 FM 7 pm |
| Thu 22 May 08 | Winnipeg, MB | TBD |
| Fri 23 May 08 | Winnipeg/Brandon, MB | TBD |
| Sat 24 May 08 | Regina, SK | CJTR - Urban Mentality 91.3 FM 10 pm |
| Sat 24 May 08 | Regina, SK | TBD |
| Sun 25 May 08 | Val Marie, SK | Grasslands National Park (visit) |
| Mon 26 May 08 | Maple Creek, AB | Cypress Hills Interprovincial Park - Saskatchewan (visit) |
| Mon 26 May 08 | Maple Creek, SK | Fort Walsh National Historic Site (visit) |
| Tue 27 May 08 | Patricia, AB | Dinosaur Provincial Park-World Heritage Site (visit) |
| Tue 27 May 08 | Lethbridge, AB | CKXU - Droppin Science 88.3 FM 7:30 pm |
| Tue 27 May 08 | Lethbridge, AB | CKXU - The Mix 88.3 FM 10:30 pm |
| Wed 28 May 08 | Fort Macleod, AB | Head-Smashed-In Buffalo Jump World Heritage Site (visit) |
| Wed 28 May 08 | Waterton Park, AB | Waterton Lakes National Park (visit) |
| Wed 28 May 08 | Lethbridge, AB | TBD |
| Thu 29 May 08 | Cranbrook, BC | TBD |
| Fri 30 May 08 | Banff, AB | Banff National Park (visit) |
| Fri 30 May 08 | Radium Hot Springs, BC | Kootenay National Park (visit) |
| Fri 30 May 08 | Banff, AB | TBD |
| Sat 31 May 08 | Jasper, AB | Jasper National Park (visit) |
| Sat 31 May 08 | Prince George, BC | Pizzaricos 10 pm |
| Sun 1 Jun 08 | Prince George, BC | CFUR - Underground Hip-Hop 101 88.7 FM 4 pm |
| Mon 2 Jun 08 | Vancouver, BC | TBD |
| Mon 2 Jun 08 | Lillooet, BC | CHLS - Brockway Biggs Hour 6 pm |
| Tue 3 Jun 08 | Vancouver, BC | CFRO - Urban Renewal Project 102.7 FM 9 pm |
| Tue 3 Jun 08 | Vancouver, BC | TBD |
| Wed 4 Jun 08 | Vancouver, BC | TBD |
| Thu 5 Jun 08 | Ucluelet, BC | Pacific Rim National Park Reserve (visit) |
| Thu 5 Jun 08 | Nanaimo, BC | CHLY - Kinetic Flow 101.7 FM 10 pm |
| Thu 5 Jun 08 | Nanaimo/Tofino, BC | TBD |
| Fri 6 Jun 08 | Victoria, BC | CFUV - The Corner 101.9 FM 5 pm |
| Fri 6 Jun 08 | Vancouver, BC | CJSF - Straight No Chaser 90.1 FM 8 pm |
| Fri 6 Jun 08 | Vancouver, BC | TBD |
| Sat 7 Jun 08 | Vancouver, BC | TBD |
| Sun 8 Jun 08 | Kamloops, BC | CFBX - Uneasy Listening 92.5 FM 9 pm |
| Sun 8 Jun 08 | Kamloops/Kelowna, BC | TBD |
| Mon 9 Jun 08 | Revelstoke, BC | Mount Revelstoke National Park (visit) |
| Mon 9 Jun 08 | Revelstoke, BC | Glacier National Park (visit) |
| Mon 9 Jun 08 | Field, BC | Yoho National Park (visit) |
| Tue 10 Jun 08 | Banff, AB | Banff National Park (visit) |
| Tue 10 Jun 08 | Banff, AB | TBD |
| Wed 11 Jun 08 | Calgary, AB | CJSW - OK Ship Lights 90.9 FM 2 pm |
| Wed 11 Jun 08 | Calgary, AB | TBD |
| Thu 12 Jun 08 | Calgary, AB | CJSW - Fat Beat Diet 90.9 FM 10:30 pm |
| Thu 12 Jun 08 | Calgary, AB | TBD |
| Fri 13 Jun 08 | Fort Saskatchewan, AB | Elk Island National Park (visit) |
| Fri 13 Jun 08 | Edmonton, AB | TBD |
| Sat 14 Jun 08 | Edmonton, AB | CJSR - Fresh Tracks 88.5 FM 11 pm |
| Sat 14 Jun 08 | Edmonton, AB | TBD |
| Sun 15 Jun 08 | Edmonton, AB | CJSR - Urban Hang Suite 88.5 FM 12 am |
| Sun 15 Jun 08 | Edmonton, AB | CJSR - Evil Petting Zoo 88.5 FM 3 am |
| Sun 15 Jun 08 | Waskesiu Lake, SK | Prince Albert National Park (visit) |
| Mon 16 Jun 08 | Saskatoon, SK | TBD |
| Mon 16 Jun 08 | Saskatoon, SK | CFCR - Afternoon Buzz 90.5 FM 2 pm |
| Tue 17 Jun 08 | Wasagaming, MB | Riding Mountain National Park (visit) |
| Wed 18 Jun 08 | Winnipeg, MB | CJUM - The Joints 101.5 FM 12 am |
| Wed 18 Jun 08 | Winnipeg, MB | TBD |
| Thu 19 Jun 08 | Winnipeg, MB | TBD |
| Fri 20 Jun 08 | Winnipeg, MB | TBD |
| Sat 21 Jun 08 | Thunder Bay, ON | TBD |
| Tue 24 Jun 08 | Timmins, ON | TBD |
| Wed 25 Jun 08 | North Bay, ON | TBD |
| Fri 27 Jun 08 | Ottawa, ON | CHUO - Cypher 89.1 FM 1 pm |
| Fri 27 Jun 08 | Ottawa, ON | CHUO - Jeep Beats 89.1 FM 10 pm |
| Fri 27 Jun 08 | Ottawa, ON | CKCU - Peaceful Journey 93.1 FM 11 pm |
| Sat 28 Jun 08 | Ottawa, ON | CHRI - Saturday Night Sound Fix 99.1 FM 7 pm |
| Sat 28 Jun 08 | Gatineau, QC | Koupe díOr BBQ 1 pm |
| Mon 30 Jun 08 | Shawinigan, QC | La Mauricie National Park (visit) |
| Tue 1 Jul 08 | Fredericton, NB | TBD |
| Wed 2 Jul 08 | Fredericton, NB | TBD |
| Thu 3 Jul 08 | Fredericton, NB | CHSR - Strictly Hip-Hop 97.9 FM 8 pm |
| Thu 3 Jul 08 | Fredericton, NB | TBD |
| Fri 4 Jul 08 | Fredericton, NB | UNB Faculty of Computer Science Open House 3:30 pm |
| Sat 5 Jul 08 | Saint John, NB | CFMH - Def Republic 107.3 FM 7 pm |
| Sat 5 Jul 08 | Saint John, NB | TBD |
| Sat 5 Jul 08 | Fredericton, NB | UNB CS Alumni 40-year Reunion - James Joyce Pub 1 pm |
| Sun 6 Jul 08 | Moncton, NB | Paramount Lounge - Industry Sundays 10 pm |
| Mon 7 Jul 08 | Charlottetown, PE | Prince Edward Island National Park (visit) |
| Tue 8 Jul 08 | Charlottetown, PE | TBD |
| Wed 9 Jul 08 | Halifax, NS | TBD |
| Thu 10 Jul 08 | Saint John, NB | TBD |
| Thu 10 Jul 08 | Halifax, NS | TBD |
| Fri 11 Jul 08 | Annapolis County, NS | Kejimkujik National Park (visit) |
| Fri 11 Jul 08 | Halifax, NS | TBD |
| Sun 13 Jul 08 | Halifax, NS | CKDU - Smooth Grooves 88.1 FM 5 pm |
| Mon 14 Jul 08 | Ingonish Beach, NS | Cape Breton Highlands National Park (visit) |
| Mon 14 Jul 08 | Sydney, NS | TBD |
| Tue 15 Jul 08 | Louisbourg, NS | Fortress of Louisbourg National Historic Site (visit) |
| Tue 15 Jul 08 | Sydney, NS | TBD |
| Wed 16 Jul 08 | St. Johnís, NL | TBD |
| Thu 17 Jul 08 | St John's, NL | Cape Spear National Historic Site (visit) |
| Thu 17 Jul 08 | St John's, NL | Signal Hill National Historic Site (visit) |
| Thu 17 Jul 08 | Placentia Bay, NL | Castle Hill National Historic Site (visit) |
| Thu 17 Jul 08 | St. Johnís, NL | TBD |
| Fri 18 Jul 08 | St. Johnís, NL | TBD |
| Sat 19 Jul 08 | Glovertown, NL | Terra Nova National Park (visit) |
| Sat 19 Jul 08 | Gander, NL | TBD |
| Sun 20 Jul 08 | Gander, NL | TBD |
| Mon 21 Jul 08 | Rocky Harbour, NL | Gros Morne National Park (visit) |
| Mon 21 Jul 08 | Corner Brook, NL | TBD |
| Tue 22 Jul 08 | Corner Brook, NL | TBD |
| Wed 23 Jul 08 | Sydney, NS | TBD |
| Thu 24 Jul 08 | Sydney, NS | TBD |
| Fri 25 Jul 08 | Heatherton, NS | Evolve Festival |
| Wed 30 Jul 08 | Nouvelle, QC | Miguasha World Heritage Site (visit) |
| Wed 30 Jul 08 | Bathurst/Campbellton, NB | TBD |
| Thu 31 Jul 08 | Gaspť, QC | Forillon National Park (visit) |
| Thu 31 Jul 08 | Quebec, QC | TBD |
| Fri 1 Aug 08 | Montreal, QC | TBD |
| Sat 2 Aug 08 | Montreal, QC | CKUT - WeFunk Radio 90.3 FM 12 am |
| Sat 2 Aug 08 | Mont Tremblant, QC | TBD |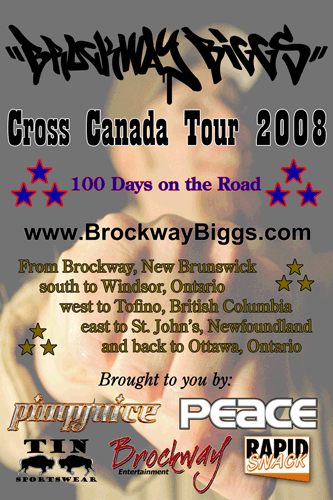 Peace.
Brockway Biggs

Buy 'In Awe of Simplicity' CD: iTunes or Credit Card, PayPal, Cheque, Cash

Brockway Biggs - www.brockwaybiggs.com
Brockway Entertainment - www.brockwayent.com