Day 50: The Halfway Update
It's day 50 of my 100-day tour across Canada and I'm pretty exhausted.
Only two days have been above 20 degrees (both in Prince George).
It snowed twice.
I've already driven 13,000 kms.
I had my side view mirror licked by an elk.
Two grizzly bears walked in front & back of my ride.
I wouldn't trade the trip for anything.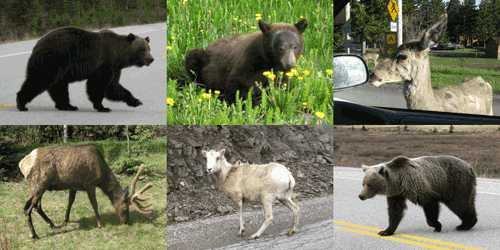 And I've managed to keep my tour blog updated for every day on the road:


The biggest bright spot for me has been the generosity of everyone along the way. The meals, the places to sleep, the dog bowl donations, the drinks, a cork screw, a neck pillow, the drive when I locked my keys in my car, etc, etc. Special big thanks to the people in every city who have stepped up and worked toward getting a show going. There have been a lot of you!

I've had fun at all the shows so far! And I've got 50 more days to go... The itinerary is at bottom!

Rather than bore you with the stories from my blog, I thought I'd send point form highlights:
Most fun live show (tie):

Most fun radio show: DJ Sage in Vancouver


Most beautiful sites:
Most played CDs in my van:

David Hodges - Live Forever
Joel Plaskett - Ashtray Rock



Most Deer/Elk seen in one day: 66 ( Lethbridge to Cranbrook via Waterton Lakes)


Most generous dog bowl donation: $40 at the Healthy Kids Fest in Prince George


Number of nights I paid for a hotel room: 1 (in Lac La Hache)
Number of nights I slept in van: 3 ( Marathon, Lake Louise & Prince George)


Highest Price paid for gas: 136.9 in Whistler
Highest Price seen for gas: 148.6 in Vancouver
Lowest Price paid for gas: 116.9 in Ottawa


Worst Highway: HWY 99 via Lillooet and Whistler in BC
Worst City to drive around: Winnipeg, MB


Best meal cooked for me (tie):
Best meal eating out (tie):
Biggest problems facing Canadian rap (as discussed with many folks along the way):

Lack of venues and promoters.
Lack of fan support.
Drug money raps.
Lack of infrastructure & business people.



Thing I miss the most about being on the road: Playing Sports

The Tour Itinerary:
| | | | |
| --- | --- | --- | --- |
| Date | Time | City | Venue |
| Sat 14 Jun 08 | 11:00 PM | Edmonton, AB | CJSR - Fresh Tracks 88.5 FM |
| Sun 15 Jun 08 | 3:00 AM | Edmonton, AB | CJSR - Evil Petting Zoo 88.5 FM |
| Sun 15 Jun 08 | 12:00 AM | Edmonton, AB | CJSR - Urban Hang Suite 88.5 FM |
| Mon 16 Jun 08 | 2:00 PM | Saskatoon, SK | CFCR - Afternoon Buzz 90.5 FM |
| Tue 17 Jun 08 | | Wasagaming, MB | Riding Mountain National Park (visit) |
| Wed 18 Jun 08 | | Winnipeg, MB | The Royal Albert - The Return of ILL RAP JAM |
| Fri 20 Jun 08 | | Winnipeg, MB | The Lo Pub - Bundown presents Charles' Gallery |
| Sat 21 Jun 08 | | Thunder Bay, ON | The Addy 227 Club (formerly Newfie's Pub) |
| Sun 22 Jun 08 | | Heron Bay, ON | Pukaskwa National Park (visit) |
| Tue 24 Jun 08 | | Timmins, ON | TBD |
| Fri 27 Jun 08 | 1:00 PM | Ottawa, ON | CHUO - Cypher 89.1 FM |
| Fri 27 Jun 08 | 9:00 PM | Ottawa, ON | CHUO - Jeep Beats 89.1 FM |
| Fri 27 Jun 08 | 8:00 PM | Ottawa, ON | CKCU - Peaceful Journey 93.1 FM |
| Tue 1 Jul 08 | 12:35 PM | Fredericton, NB | Fredericton Canada Day Block Party - Pedway Stage |
| Wed 2 Jul 08 | | Fundy, NB | Fundy National Park |
| Thu 3 Jul 08 | 8:00 PM | Fredericton, NB | CHSR - Strictly Hip-Hop 97.9 FM |
| Fri 4 Jul 08 | | Fredericton, NB | TBD |
| Sat 5 Jul 08 | 7:00 PM | Saint John, NB | CFMH - Def Republic 107.3 FM |
| Sat 5 Jul 08 | | Saint John, NB | TBD |
| Sat 5 Jul 08 | 1:00 PM | Fredericton, NB | UNB CS Alumni 40-year Reunion - James Joyce Pub |
| Sun 6 Jul 08 | 10:00 PM | Moncton, NB | Paramount Lounge - Hip-Hop Sundays |
| Mon 7 Jul 08 | | Charlottetown, PE | Prince Edward Island National Park (visit) |
| Tue 8 Jul 08 | | Charlottetown, PE | TBD |
| Wed 9 Jul 08 | 8:00 PM | Halifax, NS | TBD |
| Thu 10 Jul 08 | | Halifax, NS | TBD |
| Fri 11 Jul 08 | | Annapolis County, NS | Kejimkujik National Park (visit) |
| Fri 11 Jul 08 | | Liverpool, NS | The Mersey House |
| Sun 13 Jul 08 | 5:00 PM | Halifax, NS | CKDU - Smooth Grooves 88.1 FM |
| Mon 14 Jul 08 | | Ingonish Beach, NS | Cape Breton Highlands National Park (visit) |
| Tue 15 Jul 08 | | Louisbourg, NS | Fortress of Louisbourg National Historic Site (visit) |
| Tue 15 Jul 08 | | Sydney, NS | TBD |
| Thu 17 Jul 08 | | St John's, NL | Cape Spear National Historic Site (visit) |
| Thu 17 Jul 08 | | St John's, NL | Signal Hill National Historic Site (visit) |
| Thu 17 Jul 08 | | Placentia Bay, NL | Castle Hill National Historic Site (visit) |
| Thu 17 Jul 08 | | St. John's, NL | TBD |
| Fri 18 Jul 08 | | St. John's, NL | TBD |
| Sat 19 Jul 08 | | Glovertown, NL | Terra Nova National Park (visit) |
| Sat 19 Jul 08 | | Gander, NL | TBD |
| Sun 20 Jul 08 | | Gander, NL | TBD |
| Mon 21 Jul 08 | | Rocky Harbour, NL | Gros Morne National Park (visit) |
| Mon 21 Jul 08 | | Corner Brook, NL | TBD |
| Tue 22 Jul 08 | | Corner Brook, NL | TBD |
| Thu 24 Jul 08 | | Sydney, NS | Bunker's Bar |
| Fri 25 Jul 08 | | Heatherton, NS | Evolve Festival |
| Sun 27 Jul 08 | 10:00 PM | Moncton, NB | Paramount Lounge - Hip-Hop Sundays |
| Wed 30 Jul 08 | | Nouvelle, QC | Miguasha World Heritage Site (visit) |
| Wed 30 Jul 08 | | Bathurst/Campbellton, NB | TBD |
| Thu 31 Jul 08 | | Gaspé, QC | Forillon National Park (visit) |
| Thu 31 Jul 08 | | Quebec, QC | TBD |
| Fri 1 Aug 08 | | Montreal, QC | TBD |
| Sat 2 Aug 08 | 12:00 AM | Montreal, QC | CKUT - WeFunk Radio 90.3 FM |
| Sat 2 Aug 08 | 6:30 PM | Montreal, QC | CISM - Hip hop hypnotique 89.3 FM |
| Sat 2 Aug 08 | | Mont Tremblant, QC | TBD |

Peace from Calgary/Edmonton!
Brockway Biggs

Tour Blog: www.BrockwayBiggs.com/tour/
Buy 'In Awe of Simplicity' CD: iTunes or Credit Card, PayPal, Cheque, Cash
Brockway Biggs - www.brockwaybiggs.com
Brockway Entertainment - www.brockwayent.com